Fundstrat analysts in a weekly report predicted a further rise in the Ethereum rate to levels above $ 10,000 in 2021.
According to the document, investor attention is shifting from bitcoin to the second largest cryptocurrency and other segments such as DeFi and Web 3.0. This is facilitated, among other things, by the development of new applications in the ecosystem, the researchers added.
Experts noted that the capitalization of Ethereum has reached about 30% of the total market value of bitcoin. According to the Fundstrat chart, a similar situation was observed in the first half of 2017 on the eve of a bullish rally.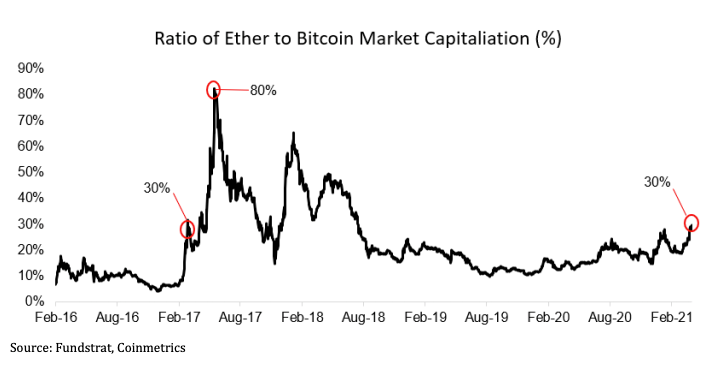 Analysts are also confident that in 2021 the bitcoin price will reach $ 100,000, and the total cryptocurrency market capitalization will exceed $ 5 trillion.
On May 1, the Ethereum rate updated its all-time high at $ 2870. Bitcoin is trading below $ 60,000.
Recall that TV star Kevin O'Leary said that Ethereum "will always be number two" after digital gold.
Earlier, JPMorgan experts named the reasons for the superiority of the second largest cryptocurrency over Bitcoin.