Trader Ilya Meshcheryakov talks about the current situation on the market .
The last few days, the cryptocurrency market has been in a slight lull: the volatility of bitcoin has been decreasing with periodic sharp and short movements, and the dynamics of altcoins is mainly set by coins with low capitalization.
A decrease in volatility is one of the standard formats of market movement, described in technical analysis as a "triangle" figure. Sellers and buyers are pushing the price, causing declining highs and rising lows, resulting in no clear trend. As a result, it will end with a rapid breakthrough of one of the zones and movement beyond the very first extremum.
In this case, we see the end of the pattern and an almost extreme decrease in volatility. An example of the end stage is the recent breakout of BTC / USDT in the chart below. Medium-term prospects for bitcoin will be clear already on the horizon of three to four days.
An upward breakout can be recorded when it reaches $ 58,900, downwards – at $ 55,800. The breakdown height in this case is about $ 6,000.
The price often gives false breakouts of such patterns, therefore, it is better to focus on the zones of the previous seller ($ 60,000) and the buyer ($ 54,500).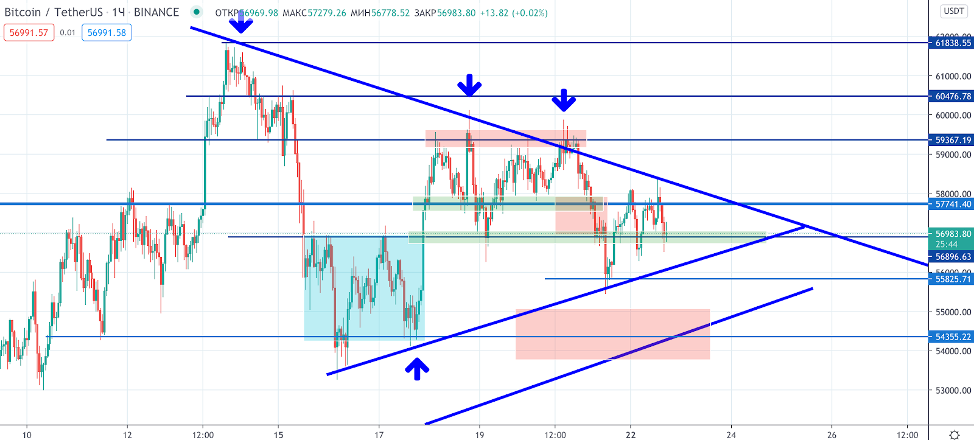 From the point of view of short-term prospects, we observe the standard squeezes of buyers and sellers (marked with arrows in the chart below).
Previously, sellers squeezed into the range of $ 58,200, so the current movement is directed to $ 56,100, which coincides with the lower border of the triangle. The inertia of such a move can lead him to the entire red zone (bottom) with a lower range near $ 55,400.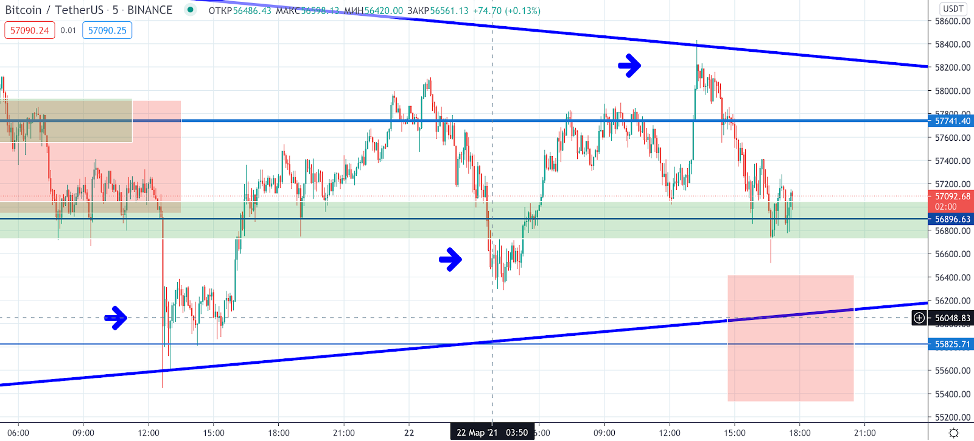 The long-term trend of the first cryptocurrency is bullish. A signal to change it will be a breakdown of the $ 43,000 mark. Globally, a period of decline in the bitcoin dominance index is approaching, which has been happening for a long time due to surges in individual small-cap coins, and now also to "heavyweights" like XRP.
Investment strategies should not undergo much change, while medium-term transactions are in a state of uncertainty. In the short term, we see a greater downward trend due to the higher open interest in the long.