The American magazine TIME has auctioned three of its own covers in the non-fungible token format (NFT). Bidding will continue on the SuperRare marketplace until March 24th.
… @TIME releases 3 special edition NFT magazine covers for auction! https://t.co/cFx0ci7kj3

– SuperRare =(@SuperRare) March 22, 2021

The lots are based on a series of provocative covers. The first one with the text "Is God dead?" came out on April 8, 1966. The publication noted that then TIME used the cover for the first time only with text, without an image.
Number with the second NFT "Really Dead?" published on April 3, 2017 – 2.5 months after the inauguration of former US President Donald Trump.
Third cover "Is Fiat Dead?" was created specifically for the auction. Its authors opposed cryptocurrencies to fiat money. TIME cited Bitcoin and Dogecoin as examples of digital assets.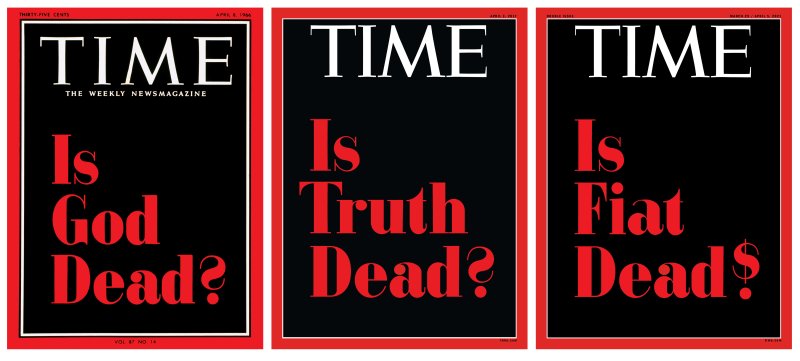 "I love the idea that the meaning of [the word 'fiat'] is incomprehensible to the layman, as is the crazy, lucrative world of NFT," said TIME's latest cover author and creative director D.W. Pine.
At the time of writing, the highest rates were:
On the day of the start of the auction with NFT, TIME magazine also opened the position of the Chief Financial Officer (CFO). A future top manager must understand the cryptocurrency industry.
"The media industry is undergoing a rapid evolution and TIME is looking for a CFO to lead this transformation," the vacancy says.
Among other things, the candidate is expected to have over 7 years of experience in leadership positions, an MBA and a willingness to launch new products.
Recall that Twitter founder Jack Dorsey sold his first tweet in the form of NFT for $ 2.91 million. The buyer of the lot was the founder of Bridge Oracle, Sina Estavi.
Digital artist Beeple, who previously sold NFT for a record $ 69.3 million, called the non- fungible token market a bubble .