Since February 23, Grayscale Bitcoin Trust (GBTC) shares have been trading at a discount to the price of the first cryptocurrency, although historically they have been characterized by a premium. Arcane Research analysts have found an explanation for this.
Bitcoin as treasury reserve asset – a global trend?

Over the last week, the trend of adding bitcoin to the corporate balance sheets has turned global, reaching both Norway (Aker) and Hong Kong (Meitu).

Read more in our weekly market report: https://t.co/MvCvLHHX82

– Arcane Research (@ArcaneResearch) March 9, 2021
They cited several reasons for the discount to net worth (NAV):
the emergence of new similar products, the launch of bitcoin funds and the acquisition by individual companies of the first cryptocurrency directly;
active termination arbitration lock-up period for GBTC buyers.
The researchers emphasized that the current situation could be painful for some arbitrageurs – if they resorted to leveraged trading, they could follow margin calls… To avoid this, traders can go to the sale of collateral, and this is fraught with pressure on the price of bitcoin.
Analysts have explained that this will not necessarily lead to the maintenance of the observed GBTC discount to the price of the first cryptocurrency. This view is based on the assumption that arbitrage traders generally have properly structured their risk management policies.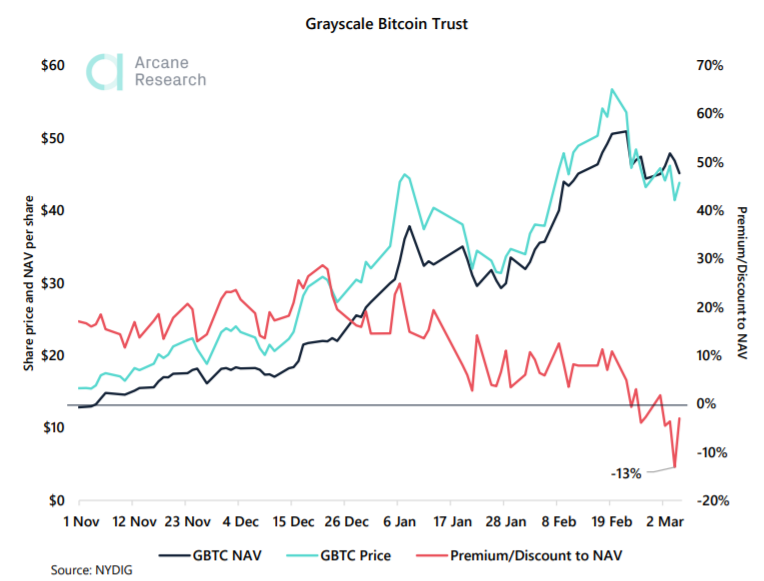 At the time of writing, GBTC discount to bitcoin price is 5.43%

Recall that in February, the BlockFi crypto-lending platform launched a competitor to the bitcoin trust from Grayscale Investments.
In January, venture capital firm Pantera Capital announced the launch of a fund based on the first cryptocurrency .
Earlier, the investment company SkyBridge Capital launched a $ 310 million bitcoin fund .