Gold does not live up to being an inflation-insured asset. This is stated in the analytical note of the portfolio manager of the Global Allocation Fund of the BlackRock company Russ Kesterich, which is quoted by Bloomberg .
"Gold's ability to hedge inflation has been somewhat exaggerated. While on the horizon of centuries the main precious metal confirms the status of a store of capital, this is not so obvious to the investment horizons of most investors , "wrote Kesterich.
In his opinion, in 2021, gold lost its attractiveness, as the economic recovery after the pandemic is gaining momentum, and the growth of US government bond yields makes investors pay attention to this asset. A BlackRock top manager noted that gold was good at insuring against dollar depreciation, but was failing in this role in relation to stocks and inflation risks.
According to the publication, since the beginning of the year, gold has fallen in price by 8%, while the S&P 500 stock index during this time has grown by 4%, and the dollar index against a basket of currencies – by 1.8%.
Bloomberg provides a graph that illustrates the decline in the price of the precious metal, which has been accompanied by an outflow of funds from exchange-traded funds (ETFs) based on gold.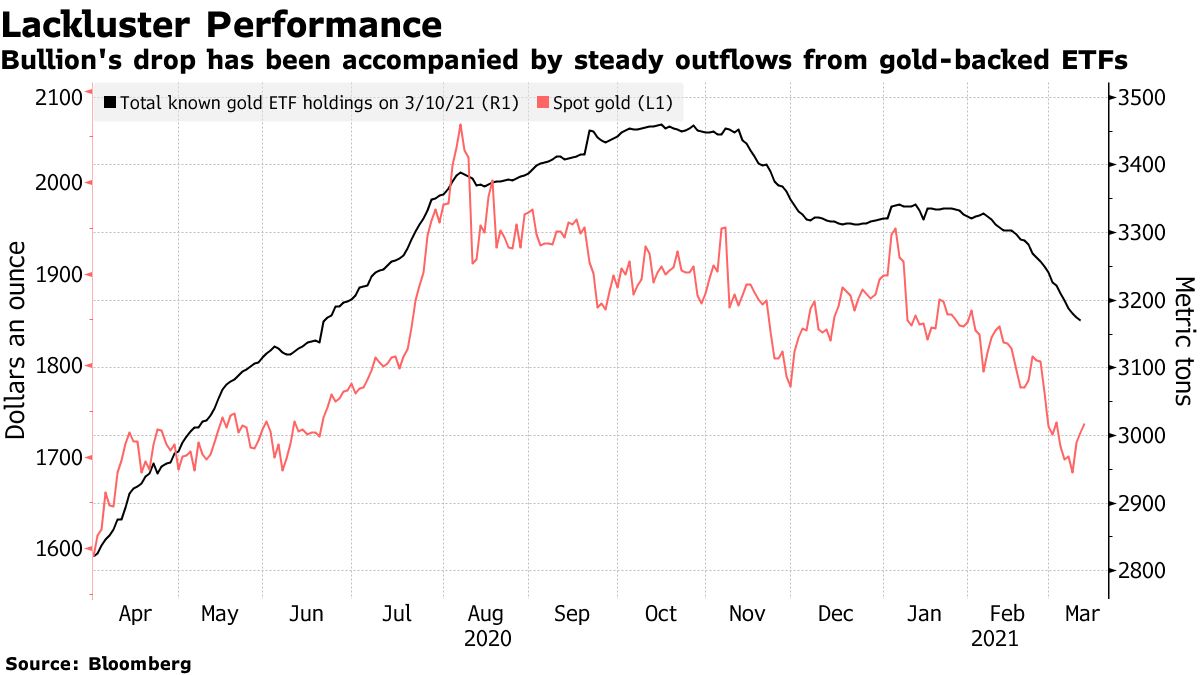 Investors direct the released funds to bitcoin . This trend was noted by digital asset management company CoinShares back in December 2020. In particular, this decision was made at  Jefferies .
Last November, BlackRock Chief Investment Officer Rick Reader said that the first cryptocurrency could replace the main precious metal .
Prior to that, Citibank Managing Director Tom Fitzpatrick called bitcoin the digital gold of the 21st century .
As a reminder, in 2021, Bank of Singapore experts announced the possibility of digital assets competing with gold as a safe haven asset.