The price of the Cardano cryptocurrency (ADA) is up 21% after Coinbase announced its upcoming digital asset listing. According to CoinGecko , the token is trading at $ 1.28 at the time of writing.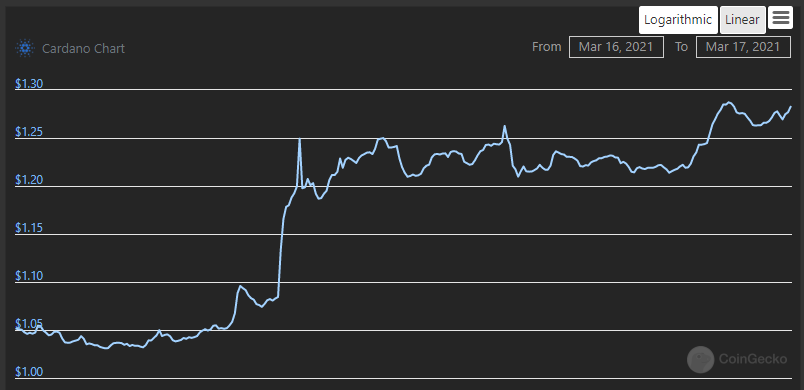 Coinbase has started accepting incoming transfers in ADA tokens. Subject to meeting liquidity requirements, the exchange will open trading on March 18.
The asset will only be available on the professional trading platform Coinbase Pro. Tokens will not be traded on the retail portal and mobile app yet.
The exchange will only allow withdrawals to Shelley network addresses with the "addr1" prefix. Full support for Byron is promised to be implemented in the near future.
Cardano's roadmap is divided into five stages. The launch of the third of these, called Goguen, with support for smart contracts, is expected within a few months.
In February, the Cardano rate rose by 280%. According to CoinGecko , at the time of writing, the cryptocurrency is ranked third in terms of market cap at $ 40.6 billion.

As a reminder, a recent poll showed that retail investors in the United States believe more in Cardano than in Bitcoin . Almost a third of respondents preferred altcoin over digital gold.
Earlier, the founder of the cryptocurrency bank Galaxy Digital, Mike Novogratz, asked subscribers to tell him about Cardano , because it is one of the few assets that he has never traded.