Some members of the crypto community suspected the marketplace of non-fungible BitClout tokens in the scam, calling it "Bitconnect 2.0".
BitClout is positioned as a decentralized social network. The project provides an opportunity to purchase tokens tied to the names of the owners of 15,000 famous Twitter accounts, including Elon Musk and Katy Perry.
According to the whitepaper , the project uses "a proprietary blockchain with an architecture similar to Bitcoin." The price correlates with the activity of famous people.
"An influencer who posts a tweet about a site may receive some of the tokens associated with his personality. Elon Musk is theoretically entitled to the corresponding BitClout tokens with a total value of $ 2.96 million, "- says the Decrypt material .
Tweets about BitClout include Neil Strauss, author of The Game: Penetrating the Secret Society of Pickup Artists, which chronicles his rise as a pickup artist.
Anyone trying Bitclout yet? I'm at https://t.co/5n1Jboms5Y
Public key: BC1YLgWTMT1hecivzS4N1Dvu4UZGPZJkJQUdJRQmhSTsqD2D7LsJSV2

– Neil Strauss (@neilstrauss) March 17, 2021
When you click on the link from Strauss' tweet, the project website displays the message:
"Welcome to the BitClout blockchain. A password is required to access this node. "
The whitepaper states that in order to participate in the ecosystem, you need to acquire project tokens by purchasing them for the first cryptocurrency on the Buy BitClout page. However, when following the link, the above message appears:

The Decrypt material says that you cannot withdraw project tokens from the platform. You can only buy BitClout coins for Bitcoin, and then send them to other participants, or buy "Creator Coins" inside a closed ecosystem.
Transactions with BitClout tokens cannot be tracked. The project code from anonymous developers has not been published.
User funds were transferred to a single bitcoin address . Its balance at the time of writing is 2881.97531607 BTC (about $ 170 million at current exchange rates).
The head of the blockchain company CipherBlade Rich Sanders came to the conclusion that the funds raised by the project go to three cryptocurrency platforms:
88.41% – Amber Group;
11.17% – Kraken;
0.42% – Coinbase.
The coins are then sent to other exchanges and wallets.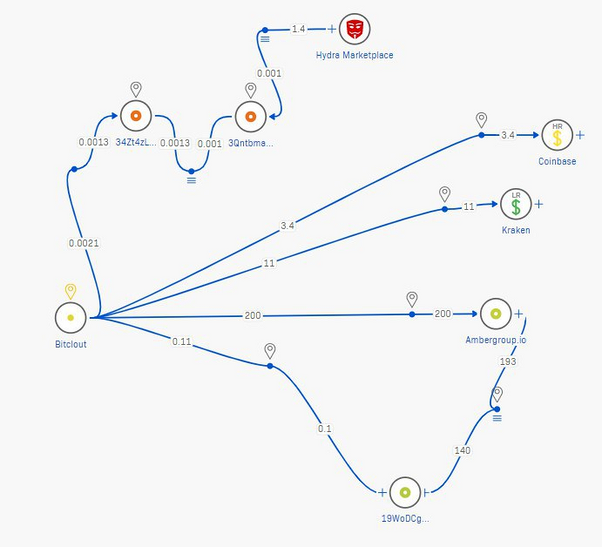 The diagram above also shows that BitClout interacted with the well-known darknet marketplace Hydra.
Coinfirm, a company specializing in tracking suspicious transactions, compared BitClout to the fraudulent crypto project Bitconnect .
Earlier, Hodlmonks published a material on NFT , which presents the views of various experts on the new segment.