The pandemic has accelerated the deployment of artificial intelligence (AI) systems in various fields, according to a study by auditing firm KPMG.
News: The # COVID19 pandemic has accelerated the pace of #AI adoption, but many say it's moving too fast, according to a new @KPMG_US survey. Read more insights here: https://t.co/sPqO3YmV6n pic.twitter.com/Yac6O0mZBM

– KPMG US News (@KPMGUS_News) March 9, 2021
The survey involved 950 top managers of companies with revenues of more than $ 1 billion. According to the study, AI algorithms are used in industry, financial sector, technology, retail, life sciences, healthcare and public administration.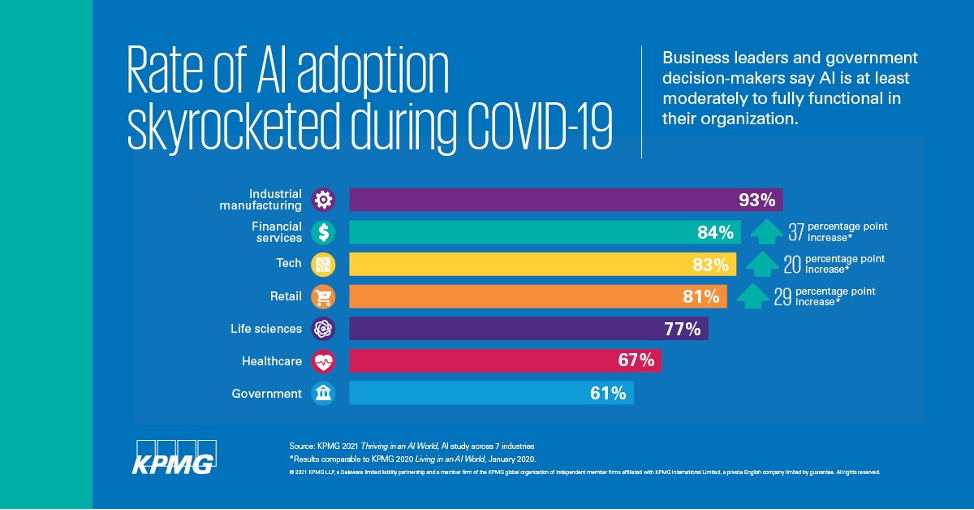 All respondents cited the pandemic as a factor behind the wider adoption of AI in the past year, although its extent varied across industries. They also expect more action from the Joe Biden administration to spur the deployment of algorithms.
Many noted that AI is evolving too quickly. The vast majority of those surveyed agreed that governments should regulate the use of technology.
Organizations are becoming more adept at successfully deploying AI, according to KPMG AI Director Tracy Gusher. She is confident that in the near future, many of the existing systems will begin to draw sub-optimal conclusions due to the lack of control mechanisms and the detection of potential bias in models that can significantly affect the final result.
Despite these and other challenges, investing in AI is seen as a defense against the next unforeseen crisis, Gusher said. Artificial intelligence will even itself help investors make such decisions.
According to Gartner experts, by 2025, 75% of venture capital investment decisions at an early stage will be made based on AI predictions. In other words, the algorithms themselves will determine if the company is generally suitable for human assessment, reducing the importance of presentations and financial performance.
According to Patrick Stakenas, senior research director at Gartner, the power of advanced analytics is shifting early-stage venture capital strategy from "intuition" and quality decision making to quantitative process.
San Francisco-based venture capital firm Signalfire is already using the proprietary Beacon platform to track the performance of more than 6 million companies. It uses 10 million sources of data, including scientific publications, patent registries, open source, sales data or social media.
The companies that perform better are flagged on the dashboard, presumably allowing Signalfire to identify the best performing companies earlier than traditional venture capital firms.
Recall that in March 2020, Cindicator launched an AI-based CND application on Bloomberg Terminal. It predicts blue-chip sentiment in the US stock market.