Trader Ilya Meshcheryakov talks about the current situation on the market .
News about the decision of the US Federal Reserve to keep the base rate at the level of 0-0.25 p.p. spurred bitcoin to growth. At the moment, the first cryptocurrency was trading at $ 59,500.
The price continues to be held above the main trend line (on the chart below), however, it forms new highs with some difficulty. The price range from $ 52,000 to current levels is interesting for medium-term long positions.
Among the goals for further growth, it can be distinguished as an insignificant transition ATH (marks ~ $ 62,600- $ 63,000) and the psychological level of $ 70,000. The latter may become one of the last stages of the current bullish cycle.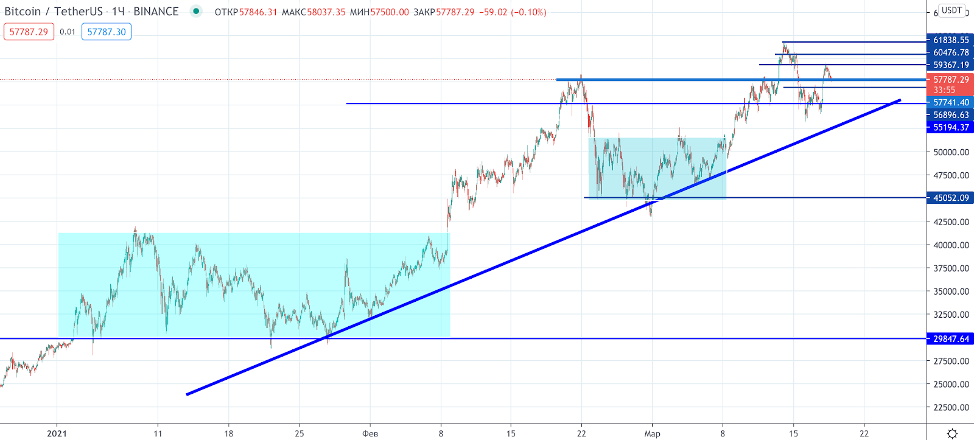 Private investors are already reluctant to part with coins on small market drawdowns. This gives a good reason for a subsequent long-term decline or prolonged flat.
The short-term prospects will be determined by speculative factors, however, in general, they paint a similar picture: the red zones (chart below) form good prices for entering the long. They are determined on the basis of the expected stop orders of buyers who entered the long both on yesterday's growth and within the previous consolidation zone (in blue). The important resistance marks will be $ 59,400, $ 60,500 and $ 61,800.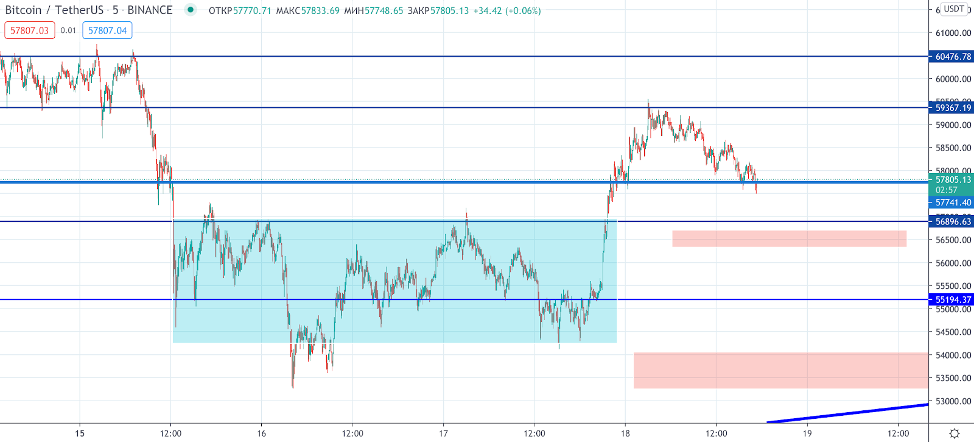 In the medium and long term, the market is bullish on the back of a positive external background and a technical picture. On the short-term horizon, there are zones of accumulation of stop orders for long positions, which can become guidelines for a decline, but at the same time provide good entry points for purchases.