On Thursday, February 24, 2,189 BTC (~ $ 107.2 million at the time of transactions) went into motion for the first time since consolidation in 2013. Telegram channel Goldfoundinshit reported about it .
Eight years ago, bitcoins transferred to the address were valued at $ 175,120. Currently, their value has increased 583 times.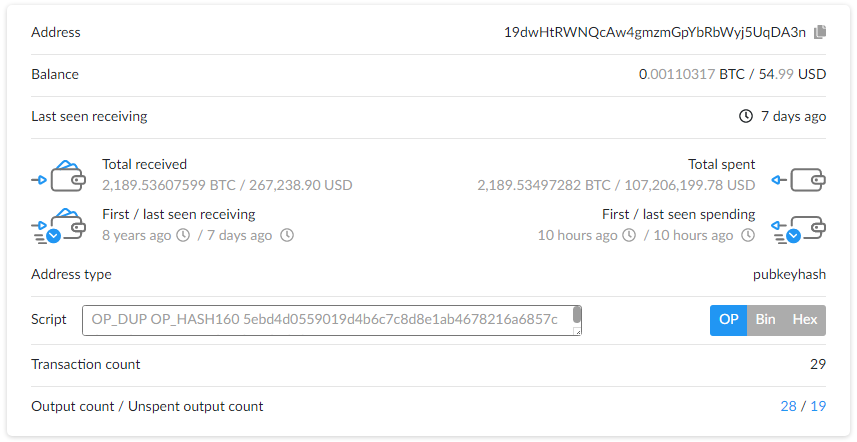 On Wednesday, February 25, 100 BTC was also set in motion, on addresses "dormant" since June 2010. During this time, their value increased to ~ $ 5 million.
Coin Metrics researcher Antoine Le Calvez noted a decrease in the frequency of movements of coins mined even before the use of GPU mining.
Some old coins moved today (100 BTC from June 2010).

It's very rare to see pre-GPU era bitcoins move, it only happened dozens of times in the past few years.

And no, it's probably not Satoshi. pic.twitter.com/0jZXnmWUes

– Antoine Le Calvez (@khannib) February 24, 2021
"And no, it's probably not Satoshi," the analyst suggested.
His colleague CTO Rafael Schulze-Kraft urged not to pay attention to such transactions, which were identified earlier.
The expert advised to track the movements of larger batches of 1000 "ten-year-old" coins. Schulze-Kraft gave a chart showing that often such movements serve as a signal for the formation of local tops.
A couple of old coins moved today – nothing new, happens regularly.

Here's what you should keep your eyes on: OG miners (+10 years) moving chunks of 1,000 BTC (20 outputs) to exchanges since December.

Near-perfect local tops. #Bitcoin @glassnode chart: https://t.co/N5P2eXn2AR pic.twitter.com/o4QrnUlKBz

– Rafael Schultze-Kraft (@ n3ocortex) February 24, 2021
In January, ForkLog reported the movement of 8,000 BTC mined in 2010. Analysts have suggested that the coins belong to the Coinbase crypto exchange.
As a reminder, in May 2020, 50 BTC , received as a block reward on February 9, 2009, came into motion . One of the miners at the time was the creator of Bitcoin, Satoshi Nakamoto. According to some users, he could be the owner of the coins, but analysis of Patoshi's patterns did not confirm the hypothesis.