The US General Services Administration (GSA) auctioned 0.7501 BTC for $ 53,104. This is evidenced by the information on the agency's website .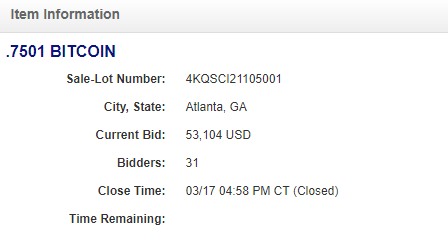 The starting price of the lot was $ 25,000. Bidding began on March 15 and lasted 48 hours in Atlanta, Georgia.
During the auction, 31 bids were made. Bitcoins went under the hammer about $ 9,000 above the market price.
The authorities did not specify where they got the first cryptocurrency from and why they put the coins up for auction through the GSA.
GSA is an independent division of the US government. The tasks of the department include helping to manage and support the main functions of the federal authorities, as well as solving administrative tasks.
Earlier, bitcoins were put up for auction by the US Federal Marshals Service (USMS). In 2014, officials sold 30,000 BTC confiscated from the Silk Road darknet site. All lots were purchased by Tim Draper, a venture capitalist .
In February 2020, USMS put up 4040.54 BTC for auction . The coins were bought by two winners .
Recall that the service managed the seized cryptocurrency on its own, but in the summer of 2020 it began looking for a contractor to store and sell the confiscated bitcoins.